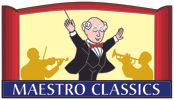 As I was doing some dishes last evening, I overheard SA(7) humming a tune. I looked at my husband. "Is that...?" He nodded. Prokofiev's Peter and the Wolf. Yes, this is the child that couldn't carry a tune in a bucket
not so long ago
. The humming, slightly off-tune but perfectly recognizable, was thanks to some daily sol-fa work. The actual tune was thanks to a
Maestro Classics
recording we've been listening to lately. We received an MP3 and digital download of
Peter and the Wolf
to listen to and review.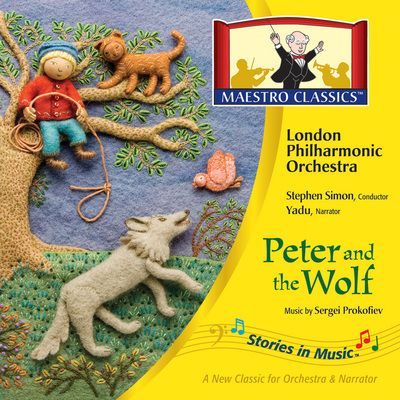 Maestro Classics' recording of
Peter and the Wolf
is part of their
Stories in Music
series, a collection of twelve recordings that includes classics such as
The Nutcracker
and
Carnival of the Animals
, and also some beloved children's stories set to original music like
The Tortoise and the Hare
and
Mike Mulligan and His Steam Shovel
. All of them are performed by the London Philharmonic Orchestra under the direction of Stephen Simon and include extras such as the stories of the composers, more information about the music or the story, and extra music.
Our
Peter and the Wolf
recording came with the story of Prokofiev; a music-only track without the narration; a talk from the conductor about how the musical themes, not just the instruments, represent the characters in the story; a Russian dance performed by Trio Voronezh; and themes from Peter and the Wolf performed by the same trio, giving it a Russian flavour (This was my favourite extra!). We also received a download of an activity booklet (CDs come with a physical copy). There is a
free curriculum guide
online to accompany the recording. We didn't use it, but I know some of you might be interested.
At our house, Thursday is music appreciation day. Normally, that means that at about 10:30 AM, we take our snacks upstairs to watch Classical music on YouTube. Each term, we focus on a particular composer and watch a several of his works performed by a variety of performers and symphony orchestras. When we received
Peter and the Wolf
, we took a break from Brahms and listened to Prokofiev instead. Several Thursdays in a row we listened to
Peter and the Wolf
again along with one of the extra tracks. We also did a couple of the activities from the booklet. Their favourite was matching the instruments to the animals.
We had actually watched
Peter and the Wolf
about a year and a half ago during one of our regular music appreciation sessions on YouTube. It had been a wonderful performance, so I was surprised that the boys didn't remember it when we began to listen to this CD. I suppose that should be a lesson to me... we do need to listen to things over and over again for them to become familiar and beloved. I don't think they will ever forget Peter and the Wolf now. Because of this, I have decided to choose one piece from each composer we study to listen to repeatedly until it is very familiar. I think I will also buy some CDs like this one that the boys can listen to on their own whenever the mood strikes them. I sense a Christmas gift idea! :)
For more reviews of Maestro Classics
Peter and the Wolf
, as well as
The Nutcracker
, click on the link below.